Fusebox replacement & new consumer units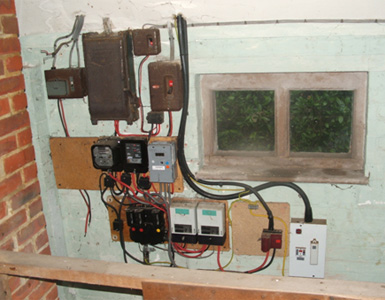 We are often asked to replace an old fusebox in a customer's house.
If your fusebox:
Has old wire fuses instead of circuit breakers
Has a wooden back
Is not equipped with an RCD (Residual Current Device)
Is one of many which have been added in a random fashion over the years
Then it is time to upgrade to a modern consumer unit with all today's safety features.
We generally do this on a package deal basis including all that is needed to test the system, replace the fusebox, and leave the installation in a safe and satisfactory condition.
We provide a written quotation for the work, which usually takes a day, and includes:-
A brand new consumer unit from a top quality manufacturer (generally either MK or MEM), correctly labelled with each circuit description
A complete test of the existing electrical system
Upgrades to the earthing and bonding arrangements to meet current regulations
Any minor running repairs that we can complete in the day (see also urgent repairs below and the Remedial Work section at the end of the document)
A certificate covering the work done including a technical schedule of all the circuits
Naturally any problems which are immediately dangerous (for example a broken box where the live conductor is exposed) will be identified on the day and urgent action agreed to make the situation safe.
Unless otherwise stated our package includes two engineers for a day, one to change the board and one to do the testing and any minor repairs that be covered in the time. Where we identify issues that need fixing beyond the time available we will report to you. Should you wish us to go ahead with remedial work we will follow up as soon as possible to bring the installation up to standard.